NEWS
Check out my new contribuition to Lucy V Hay's excellent Bang2Write website: 10 Quick Tips About Writing Horror Enjoy.
23 July 2019
GHOSTWATCH Special Halloween Screening plus Q&A with Lesley Manning (director) and Stephen Volk (writer) at MAC, Birmingham - 31 October 2019 at 8.30
Booking information for the event here
15 July 2019
Just got home from a splendid weekend at EdgeLit in Derby - always a pleasure, whether as a Guest or as a punter. Thanks to Alex Davis for all his hard work in poutting it together. Great seeing old friends and making new ones. Also, not least, launching this little beauty:
Thanks to Kit Power and Neil Snowdon for making it a great day, and a superb looking book!
Checkout the Electric Dreamhouse PODCAST here featuring COFFINMAKER'S BLUES discussed by Stephen Volk and Kit Power

21 June 2019
Tomorrow (Saturday 22 June) I will be appearing at "We Are Cult", a one-day mini-con in Bristol with a number of interesting guests from the annals of classic television. I will be interviewed by Will Salmon at 1pm, and there will be an opportunity to get books signed. Numbers are limited so book soon.
Get tickets for We Are Cult here
An early heads-up about EdgeLit at The Quad, Derby, on Saturday 13 July. I will be doing a Special Guest interview at 11am. At 1pm I will be on a panel discussion "Using the supernatural in fiction" and at 5pm I will be holding a workshop on "Pitching a TV Series in 2 Pages" - book early to avoid disappointment.
Book tickets for Edge Lit 2019 here
Remember! The launch event for Ten Word Tragedies is on Wednesday 10 July! See details below:
31 May 2019
My new short story "Beat the Card Home" is one of the contributions to this extra special anthology. Ten-Word Tragedies edited by Tim Lebbon and Christopher Golden is sub-titled: 19 Stories based on one Frank Turner song. It's what it says on the can!
Here are details of the book to pre-order and info for the LAUNCH EVENT in London, which includes an acoustic set by Frank himself! I'll be there too. Do come along. The more the merrier, but places are limited.
Order Ten-Word Tragedies here from PS Publishing
See ticket info & details of the Book Launch (Weds 10 July 2019) here
21 May 2019
Delighted to announce an exciting new TV project I have been working on for some time.
Stephen Volk teams up with Paul Marquess for 'transgressive riff' on horror classic.
Ghostwatch creator Stephen Volk is to adapt classic horror novel Dr Jekyll and Mr Hyde for Paul Marquess' fledgling indie.
Volk plans to deliver a "bold, edgy, transgressive riff" on Robert Louis Stevenson's book for Long Story TV, which Suspects creator Marquess recently set up with fellow drama exec Donna Wiffen. The indie, which is backed by French indie studio Federation Entertainment, will primarily develop low-budget drama but Marquess said Volk's "incredible" modern-day interpretation of the story was irresistible.
No broadcaster is yet attached to the project, which Long Story said would have "a fresh and innovative feel, that's really exciting and wildly ambitious".
Volk added: "The key masterpieces of genre literature have always been part of my DNA, and I'm thrilled to be working with Donna, Paul, and the team at Long Story and Federation on Stevenson's horror classic, taking it in a direction that nobody has seen before, and grabbing them by the throat."
As well as BBC1's infamous 1992 Halloween drama, Volk also created ITV dramas Afterlife and Midwinter of the Spirit. He also wrote a stand alone film for Channel 4's anthology horror series Shockers.
Here's the details as reported by SciFi Bulletin
4 March 2019
Fantastic artwork by Ben Baldwin, produced to accompany my story "Unchain the Beast" which will appear shortly in the Mar/Apr edition of Black Static (#68) edited as ever by the excellent Andy Cox.
*Black Static can be ordered here - for those of you looking for a discerning selection of today's horror and fantasy writers
Also do have a look at this VIDEO INTERVIEW (25") in which I chat to Ginger Nuts of Horror's Kit Power about the background and writing of The Dark Masters Trilogy
1 March 2019
**EXCITING ANNOUNCEMENT FROM ELECTRIC DREAMHOUSE PRESS**
"COFFINMAKER'S BLUES will collect all the columns that Stephen wrote for Black Static Magazine, from 2004-2016. It's an extraordinary collection. A genuine insight in the life and mind of a working screenwriter. This is an invigorating, inspiring read for any lover of genre film, TV, or prose fiction, and all the more so if you're a fan of Stephen's work. GOTHIC, GHOSTWATCH, AFTERLIFE, THE AWAKENING, MIDWINTER OF THE SPIRIT and the many fascinating projects that have yet to make it to the screen. As with everything he writes, this cuts to the quick, as Stephen dissects himself, the genre, the business and the art of writing, to show us what he finds within." (Editor Neil Snowdon)
PRAISE FOR COFFINMAKER'S BLUES:
"An educational Joy to read, this man knows his stuff… well-thought-out, intelligent and incendiary" -Ginger Nuts Of Horror
"Blisteringly powerful" -SF Signal
"Amusingly scathing… frank, honest, yet ultimately hopeful and considered" -Dread Central
"An insiders opinion… Volk certainly knows what he is talking about, with a career in the industry that has spanned two decades." -Rue Morgue Magazine
22 November
Stephen Gallagher has given me permission to let you have a read of his original Afterword to my novella, Leytonstone (now reprinted in The Dark Masters Trilogy from PS Publishing - out now.) If you are curious about the life and work of Alfred Hitchcock, you'll enjoy this.
http://www.stephenvolk.net/Leytonstone Afterword.pdf
3 November 2018
Check out the brand new book trailer for The Dark Masters Trilogy (PS Publishing). Out now and avaialble direct from the publisher. The trailer was designed by me and my wife using the surprisingly easy-to-use iMovie software. I'm really pleased with how it came out. So please share!
In other news, this review in The Times by Hugo Rifkind celebrates the link between Inside Number 9's Halloween "Live" Special and Ghostwatch.
And in Stories from the Borderland Scott Nicolay unearths the strange link between Ghostwatch and a story by a writer who worked for Alfred Hitchcock! Fascinating stuff...
30 October 2018
Check out horror director Aislinn Clarke selecting Ghostwatch as her favourite Halloween viewing on Daily Grindhouse (28 Oct 2018)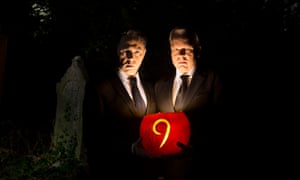 That glorious pair of League of GentlemenL alumni Reece Shearsmith and Steve Pemberton (above) also did Ghostwatch very proud indeed, with a fond homage (or remake!) in their Inside Number 9 "live" Halloween Special (28 Oct 2018) which used technical malfunmctions, cuts in the broadcast, shaky camera POVs and deserted studio control rooms to great effect in their comic ghost story set in a haunted Manchester TV studio during a LIVE broadcast.
Reece told me in a text after the show that it was a "love letter" to Ghostwatch, and this did no go unnoticed on twiitter! It seems The Guardian got the references, too.
26 years after our initial broadcast in 1992, to get such flattery is really delightful.
22 October 2018
A fantastic FantasyCon in Chester during which we almost ran out of copies of The Dark Masters Trilogy to sell!
Never fear! Copies are now available from the ORDERING PAGE HERE
30 September 2018
I will be "in conversation" LIVE with director Sean Hogan at the Miskatonic Institute of Horror Studies on 11 October. We hope to be discussing both my screen and fiction writing, with a Q&A from the audience. Starts at 7pm at the Horse Hospital, London. (See link for details.)
24 September 2018
Hear me, together with gothic guru and academic Darryl Jones, Phil Rickman (of Merrily fame) and novelist Barbara Erskine on an episode of BBC Radio Wales's Phil the Shelf book programme discussing all things spooky in the run up to Holloween: including much talk of Dennis Wheatley, Aleister Crowley, my novel Netherwood, part of my forthcoming book The Dark Masters Trilogy. Catch it on iplayer for the next month, then it is gone.
For more on the DMT, see the menu, left.
Here is the link to a new podcast interview with me about the inspiration behind and writing of The Awakening on Briflix.
And here's another slice of pre-Halloween joy, from the pages of The Guardian - "Coven ready: from Instagram to TV: why are witches so Popular?" - including a couple of quotes from yours truly.
#Top
13 August 2018
My interview with the excellent Jed Shepherd is now available to listen to on "What To Watch on Netflix" Our discussion (43 minutes) ranges from Ghostwatch, which traumatised him as a child, through Afterlife and The Awakening to The Dark Masters Trilogy.
24 July 2018
Really pleased to announce that my slender volume from last year The Little Gift has been shortlisted for a British Fantasy Award for Best Short Fiction 2018. Winner will be announced at FantasyCon in October.
Also delighted to see this write up of The Dark Masters Trilogy in Sight & Sound Magazine this month, thanks to Anne Billson. This book will be launched by PS aty FantasyCon in October, too.
Finally, this shout out for Ghostwatch in the pages of the My Weekly Annual 2018.... fame at last!
29 June 2018
Pleased to announce that on Saturday, September 8th I will be doing a talk/session as part of the esteemed London Screenwriters Festival 2018 entitled "What We Can Learn from The Dark Masters of Horror". Using my forthcoming book The Dark Masters Trilogy as a template I will be exploring how genre writers of today can leatrn by examining the lives and craft of those giants of the past we all look up to, and build on.
The LSF weekend is always an exciting event in the screenwriting calendar - dammit, pretty much the ONLY event, who am I kidding? So, a great chance to hear luminaries talk, and to network with others, experienced or novice, who work in the same trenches.
I will also be doing a "Mentoring Script Lab" with six lucky people who are working on scripts in the paranormal or superantural area. See website above for application details.
In other news, here is the cover for EdgeSF's forthcoming publication Gaslight Gothic: Strange Tales of Sherlock Holmes, edited by Charles Prepolec & J. R. Campbell. The anthology contains my latest Dupin/Holmes case - "Father of the Man" - which I think is the best, and most chilling, I have written so far.
25 May 2018
I will be appearing tomorrow (26th May) at a splendid "Ken Russell Day" in London commemorating the work of the great, visionary film director. Following a screening of the film, I will be doing a Q&A about Gothic, chatting rnadomly with cult media guru Matt Melia.
Doors open at 1pm, programme starts 2pm. At the Deptford Cinema, Deptford. Come and get involved, and say hello. There is also a Quiz - with one of my books as a prize. Hard to say no, really! Check out details here:
Event tickets / info for KEN RUSSELL DAY
19 May 2018
Nice to see Ghostwatch appear on the quiz show Only Connect (BBC2 Monday April 23rd, 2018). Victoria Coren looks suitably baffled.
9 April 2018
Delighted to be a guest of Madeleleine D'Este's Write Through The Roof Podcast - the podcast for writers who want to improve their craft. It's short and sweet (30 minutes) - set questions each time, but quite revealing ones. Take a gander.
4 April 2018
Do dive into this new, exclusive Podcast Interview I did recently with the guys at The Inner Sanctum. Hope you enjoy it and find it enlightening, a little!
Furthermore, do pop along, if you are minded, to this spiffing new article about Gothic on SyFy Wire.
Also a timely heads-up that I will be appearing at the Edinburgh Science Festival, no less, next week as part of a panel discussion - it's on Wednesday 11 April at 8pm on the subject of "What Makes Us Afraid - and Why Do We Like It?" I'll be appearing with a clown (no chnage there then). Details on the link. Come and say hi. And ask your all-important questions from the audience! I dare you.
25 February 2018
Proud to announce that my short story "The Airport Gorilla" will be appearing in the impressive contents of this little beauty! The latest in the New Fears horror anthology series from Titan Books, edited by the marvellous Mark Morris. I think they are looking at September publication. Mark tells me it's going to be a chilling treat, and I trust him!
30 November 2017
New from the Vestron Video Collector's Series, the horror classic Gothic will arrive for the first time on limited edition Blu-ray on January 30th 2018, Bloody Disgusting announces.
Starring Golden Globe-winner Gabriel Byrne, Julian Sands and Natasha Richardson, directed by legendary director Ken (The Devils) Russell, and written by Stephen Volk, Gothic is the fictional retelling of the night Mary Shelley was inspired to write Frankenstein.
The new Gothic Blu-ray will be packed with all-new special features, including audio commentaries, isolated score selections, exclusive interviews with the writer, cast and crew, and more, and will be available at the RRP of $39.97.
21 November 2017
A Timewarp flashback interview with me about my various film and TV projects over the years, by Steve O'Brien in SciFi Now magazine, out now!


Read the full article from SciFi Now here
13 November 2017
Extrasensory is moving ahead apace. We are now aiming to be shooting in February 2018.
Check out this Kickstarter Campaign running till the end of November, offering all manner of luscious rewards for your participation towards making this exciting new British SF film happen. Contains a film interview with SV and director Lesley Manning, plus the "proof of concept" footage.
Stand by for more production news soon.
9 November 2017
No words.
6 November 2017
Check out this interview I did yesterday on BBC Radio Scotland in which I discuss Ghostwatch, hoaxes, and Orson Welles's famous War of the Worlds radio broadcast with actor and Welles biographer Simon Callow. It begins about 01.46.30.
1 November 2017
Halloween has come and gone and it's been a whirlwind of activity on the Ghostwatch 25 front. We haven't paused for breath in the past 48 hours.
First of all, thanks and congratulations to all the guys at the Pilot Light TV Festival for hosting two screenings/Q&As with myself, Lesley Manning and (in London) Gillian Bevan - to fantastic audiences in both Manchester and London. We had a ball. I can think of no better way to have celebrated Ghostwatch, 25 years on from its one and only BBC screening in 1992.
On Tuesday morning 31 October Lesley and I talked to Adrian Chiles down the line on BBC Radio 5 Live - the interview (in which we are joined by producer Ruth Baumgarten) begins at 2.28.00 and last about half an hour.
There's a further mention of Ghostwatch on the BBC's Afternoon Edition also on Radio 5 Live but the day before. A mention of it at 2.08.00, then a longer piece at 2.50.35. Nice to hear them say it's "still as good as it was then"!
For more audio, those redoubtable Final Girls asked me some extensive questions on Ghostwatch during their special horrorcast on the subject (31 Oct 2017)
And there are some excellent recollections during this one hour special on Ghostwatch on Fornications of the Mind on The Old Oil House (The Public House of Pop Culture): "It attacks you on sa fundamentally human level" "There is nothing than coul dever scare me as much as Ghostwatch" "A brilliant piece of horror" "I'm getting shivers just talking about this" "It's indisious... like an infection taking hold" (31 Oct 2017)
Meanwhile, here are some links to some of the print and online articles that have sprung up (see further articles in the post immediately below):
Rebecca Woods writing for the BBC news website penned Ghostwatch: The BBC Spoof That Duped A Nation. Remarkably, she managed to get comments from the family of Martin Denham. This article is an astonishing turnaround for the BBC who clamped down on Ghostwatch after it saired, effectively burying it for ten years. And clearly this piece prompted our appearance on Radio 5 Live, above.
The NME's Dan Stubbs ran an interview with me and Lesley under the title Cult TV Classic Ghostwatch at 25: "our show made a man shit his pants" (30 Oct 2017)
Roisin O'Connor ran a piece in The Independent Ghostwatch: BBC Halloween spoof that "gave children PTSD" turns 25 (30 Oct 2017), while there was a further piece in The Independent by David Barnett called Ghostwatch: The 1992 paranormal investigation that just had to be true, because it was on the BBC (31 Oct 2017)
The Irish News ran with Cult Movie: Ghostwatch scared the hell out of us before TV spoofs were commonplace by Ralph McLean (27 Oct 2017)
On a lighter note the esteemed Tony Earnshaw interview me for the Huddersfield Examiner (30 Oct 2017). There was an article by Julia Banim on Unilad entitled BBC Halloween Programme That "Gave Kids PTSD" is 25 Years Old (31 Oct 2017)
Also check out the article on www.heyuguys.com entitles "25 Years of Ghostwatch and Why You'll Never Experience Anything Like It Again". Jon Lyus says "It marked a turning point for the horror genre" and "Its cult status grown each year, as does its prestige" (31 Oct 2017)
27 October 2017
Ghostwatch's 25th anniversary looms. And the coverage so far has been awesome. Check out the following:
This brilliant article by Kate Mossman in The New Statesman including extensive new interviews and analysis. (19 Oct 2017)
This one by Tom Fordy in the Daily Telegraph online.(26 Oct 2017)
And this by Louise Rhind-Tutt on inews - "The BBC mockumentary still haunting us after 25 years". (26 Oct 2017)
Here it is discussed on The Robots Pajamas. (20 Oct 2017)
This terrific piece on boingboing "Ghostwatch: the greatest Halloween hoax of all time" (24 Oct). And an anonymous blog here.
Also, a rather strange write-up on Adventures in Poor Taste: I'm not quite sure if the writer realised it was a drama! (Oct 17)
19 October 2017
Lots to report in the run up to Hallowe'en and the 25th anniversary of Ghostwatch.
First of all nice to see it get a mention in the Scary TV's Scariest TV shows of All Time.
Next of all, in case you missed it, here is my Interview with BBC Radio Bristol presenter Claire Cavanagh the day of the Ghostwatch screening at The Watershed in Bristol, which was a sell-out!
Here's a nice picture of me taken at Bristol Horror Con the next day by Tom Parker:


Upcoming... an GW25 article by Kate Mossman in The New Statesman, a piece by Tom Fordy in the Telegraph online culture section, an interview on inews, and an anniversary piece/interview by Tony Earnshaw. Watch this space for links.
Here is the link to buy tickets for the Halloween screening of Ghostwatch + Q&A in London - do book now as tickets are selling fast! It's going to be an extra special event with special guests so don't miss it.
11 September 2017
Impending paranormal activity forecast in the exciting build up to the 25th Anniversary of Ghostwatch, so stand by your beds!
There will be a special screening at The Watershed, Bristol on 13th October at 5.45 as a prelude to Bristol Horror Convention the following day. The screening will be followed by a Q&A with myself and Kim Newman. Both of us subsequently being guests at the con on the Saturday. (I will be on a panel discussing "Horror: How Far is Too Far?" - whch should be interesting.)
Later in October there will be two screenings organized by Pilot Light - the first is at Manchester Gorilla on 30th October (+Q&A) - the second is at Genesis Cinema, London (+Q&A). Both with be attended by myself, the director Lesley Manning, and special guests.
Check out this piece in Lovin Manchester
Ghostwatch also sails in at number 2 in Flickside.com's assessment of the most terrifying found footage/mockementary films. Check that out too!
Also look out for extra fantastic anniversary news I can't announce quite yet!....
18 August 2017
Advance heads-up that I wil be presenting my illustrates talk, "Creating Paranormal Drama for TV and Film" at The 2017 Screen Writers' Festival in London on Saturday, September 16th at 2-3pm.
Full details here on the SWF web site
17 July 2017
Delighted to see that my most recent collection The Parts We Play (PS Publishing) has been shortlisted for a British Fantasy Award as Best Collection. The award will be presented at FantasyCon in September. Congratulatiuons to all the other nominees.


Read the full British Fantasy Award shortlist here
30 June 2017
Well, what do they say? Never say never.
If you scroll down you'll see that back in April I posted about a hiatus in the development of a much praised and beloved screenplay of mine, The Nature of Enchantment.
Lo and behold, the project is up and running again with another producer joining the fold and a new director attached. I couldn't be more excited! Watch this space for more information as it comes in...
One thing is for sure. As a producer said to me once: "If it's not made, it's not dead..."
29 June 2017
Update on future screenings/personal appearances in 2017:
August 19: Guest speaker at Horror Writers Association (HWA) special day focussing on Film and TV writing, at The Quad, Derby.
September 9: After dinner speaker at "Seriously Strange" Conference, Association for the Scientific Study of Anomalous Phenomena (ASSAP) at Bath University, featuring guest speakers over two days (weekend 9-10th September).
September 29-October 1: FantasyCon, Peterborough.
October 14: Guest at Bristol Horror Con.
October 30: Screening of Ghostwatch in Manchester with special guests, Q&A.
October 31: Special 25th Anniversary screening of Ghostwatch, with special guests in attendance plus Q&A.
25 May 2017
14 May 2017
Toby Kebbell to play twin brothers in sci-fi Extrasensory (Screen Daily, 12 May 2017)
Toby Kebbell (Dead Man's Shoes, Ben-Hur, Fantastic Four, Kong: Skull Island) has been cast as twin brothers in sci-fi film Extrasensory from Genesius Pictures. Lesley Manning directs from an origianl screenplay from Bafta-winning writer Stephen Volk.
The duo worked together on Ghostwatch, the infamous drama-mockumentary presented by Michael Parkinson that received over 30,000 complaints when it aired on BBC1 in 1992.
Kebbell plays twin brothers who are recruited for a top secret experiment by Soviet Russia to test the power of telepathic communication.
Harry Gregson Williams (The Martian, Prometheus) will write the score. Produced by Debbie Gray (Northern Soul) and Myf Hopkins, former head of production at Jim Henson's Creature Shop, Extrasensory has been developed with and is supported by Film Cymru Wales. Shooting will commence in late October 2017.
Read the full article in Screen International here
Ghostwatch's Volk and Manning Reunite for Extrasensory (Sci-Fi Bulletin)
Ghostwatch Writer and Director Team on Extrasensory starring Toby Kebbell (joblo.com)
Read the news at Empire Magazine online
Photos of propmaking for "Extrasensory" Trailer
26 April 2017
Michael Caine joins The Nature of Enchantment
Read the full story on MovieWeb here
"According to Variety, Michael Caine is set to star with Danny de Vito and Kristin Scott Thomas in The Nature of Enchantment for producer Penny Marshall and Mike Newell's 50 Cannons. The $18.5 million pic, shooting in September in Montreal, will be the feature debut of musicvid helmer Nick Brandt, from an original script by Stephen Volk. A UK/Canadian co-prod, the project is being sold internationally by IAC Films."
Coulda, shoulda, woulda...
Sadly the above is a news item I recently came across from way back in 2004, when the feature film I wrote was on the stocks to be made. Unfortunately, in Hollywood, just because a film is announced doesn't mean it's going to be coming to your screens soon, and this one seems to be trapped in the Purgatory between development hell and "some day my prince will come". Ah, well.
I still have hope in my heart, as it is one of the best scripts I've written and a lot of people have fallen in love with it. As someone once said, a project isn't dead until it's made - so watch this space. You never know!
18 April 2017
Shudder Brings Infamous Banned BBC Program Ghostwatch to the States
www.shudder.com - the premium thriller, horror and superantural streaming service backed by AMC Networks - is releasing the BBC's infamous faux paranormal documentary Ghostwatch for the first time ever in the United States.
Check out the full article here at Dread Central
10 April 2017
Wonderful surprise to find out that my story collection The Parts We Play (PS Publishing) has been longlisted for the Edge Hill Prize. Click on the link for further details. The shortlist is announced later in the year.
21 March 2017
The "proof of concept" teaser trailer for Extrasensory is now available to view. Check it out also at the new web site for Genesius Pictures or keep in touch on the Genesius Pictures FaceBook Page. Also check out this excellent blog on the making of the trailer on Rich Lawden's Ghostwatch Behind the Curtains site. This incides a brief interview with me about the project.
Set in Russia, 1988, during the crumbling years of the Soviet period, Extrasensory is a redemptive story of love, betrayal and forgiveness centring around a pair of twin brothers separated by years of animosity, forced to work together to implement an experiment to test telepathy in the far reaches outer space.
Extrasensory is a forthcoming feature film. Screenplay by Stephen Volk. Directed by Lesley Manning. Produced by Debbie Gray and Myf Hopkins. Check out details of the reast of the team here.
I'm very excited that we are now at the casting stage. Stand by for more announcements soon!
6 March 2017
I have written a blog entitled What's in a Label? about the writing of my new novella from PS Publishing, The Little Gift.
Ordering information is now up on the PS web site, and there's a link at the bottom of this "Sneek Peek" extract, right here.
1 March 2017
I will be appearing at London Fortean Society's Deception Day: Hoaxes, Lies and Fake News on April 1st at the Conway Hall, London, where I will be discussing the notorious "mockumentary" Ghostwatch with its director Lesley Manning as well as, I suspect, having a lively debate with the audience.
26 February 2017
Not too shabby!
23 February 2017
Hot diggiddy! Look who has a six-page interview in the new edition of Horrorville magazine! (And not only about Ghostwatch.) Procure a copy with the utmost haste! (Sorry, but I'm writing a story set in the 19th Century a tthe moment...)
Also: please have a listen to this brand new This Is Horror Podcast with yours truly... It's TIH 134, and a whole hour and a quarter of chat about my background, influences, what makes horror, what "horror" is, film-making, short story writing, my new collection, etc etc. as the following breakdown shows:
[
04:35
] Interview start/first experiences with story
[
13:45
] Lessons learnt making films as a kid and at art school that were transferrable to writing
[
19:25
] If you can't write a good scene, write a bad scene
[24:05] Forthcoming novella, The Little Gift
[29:00] Paul Feeney, via Patreon, asks about Stephen's Black Static magazine column and what makes for a horror film and what doesn't
[54:10] Write what you know vs. write what you don't know
[56:05] The Parts We Play-themes explored and the importance of story order
[
01:07:25
] Paul Cutting, via Patreon, asks about story ideas and factors for determining media: film, long form or short form fiction
[
01:11:00
] If forced to write in just one medium which would you write in for the rest of your life
[
01:13:00
] Jake Marley, via Patreon, asks about outlining vs. discovering the story
[
01:14:20
] Dos and Don'ts of writing short stories
[
01:18:00
] Connect with Stephen Volk
30 January 2017
Check out the new podcast interview with me on Tomo Warrington's Pure Parnormal Show: a full discussion of my writing and especially the legacy of Ghostwatch.
Also now up - a brand new review of my PS Publishing collection The Parts We Play over at Mythogeography, where Crab Man says: "Taken on their own, these are all admirable and gripping tales; each one differently twisty, moving, fantastic or incisive. More importantly, they stretch a theme and vision across the varied narratives, developing as they span the slippery changes within and through their horrors."
10 January 2017
Welcome to glorious 2017. Sure to be a year of horror as we sort out the Brexit mess and see Trump entering the White House! As Jonathan Coe remarked in The Guardian this weekend -- is there a time when reality outstrips satire?


Here's the cover of Black Static #56: the first ever issue not to have my regular column Coffinmaker's Blues in it. I've closed the shutters on non-fiction to concentrate on made-up stuff which is hopefully what I do best. The good news is that the above edition contains Peter Tennant's excellent review of my PS collection The Parts We Play, and an accompanying Q&A: click here to read both.
Pete generously calls me "the best writer of short stories in the UK horror scene at the moment", going on to say: "Volk has the range, voice and compassion of a true master of the short story form... (he) holds up a mirror in which we all to often see ourselves not entirely happy with what we see. He is the best we have."
In other news....
Tickled to bits to hear that my collection has been shortlisted for Best Collection 2016 in the This Is Horror Awards - please click on the link and VOTE VOTE VOTE!
You can now enjoy the Twisted Tales Ghost Story Evening at Keele Hall in November '16 even if you missed it. If you click here you can listen to both the three ghost stories read by Tim Jarvis, Helen Marshall and myself respectively, plus the panel discussion about ghost stories that followed.
Finally, a reminder that I'll be delivering my illustrated talk on "Writing Supernatural Drama for Film & TV" at Goldmith's College in London on 24th January - full details here
7 December 2016
In this Writers' Craft Podcast: Creating Suspenseful Scenes on Michael Wilson's This Is Horror website, 16 writers discuss their techniques and secrets.Yours truly kicks off proceedings, followed by the likes of Maura McHugh, Rich Hawkins, T E Grau, Lisa Mannetti, Simon Kurt Unsworth and Michael Wehunt. While you are there, be sure and sign up for future This Is Horror newsletters.
1 December 2016
Thank you to Mark Morris for braving his lurgy and interviewing me at Sledge-Lit in Derby last weekend. The feedback was great so I presume he did a great job! With crushing inevitability I was also cast in the role of Santa (with Pixie Peigh as my sulky elf) for the raffle: but good fan, I hope, was had by all.
Meanwhile I'm off Facebook to concentrate on more interesting things than who is a shit director and what is a shit film.
However, mini-news.... The powerhouse that is PS Publishing will be publishing my new novella, "The Little Gift" in January 2017. I'm also working towards a submission for my next Poe/Sherlock adventure for an exciting anthology that will be coming out in 2018.
More news as it happens!...
15 November 2016
Check out these 7 Things I Discovered at the Horror Expo Ireland 2016 by Stephen Volk - which I wrote up for Lucy V Hay's excellent www.bang2write.com web site, always a feast of knowledge for aspiring screenwriters.
Also, great news today in terms of a stonking review for my new collection The Parts We Play in no less than the news stand horror magazine Horrorville! The review picks out "The Peter Lorre Fan Club" as best of the bunch (2you will no doubt find your own faves").... "Terrifically written, it's characteristic of this varied and highly enjoyable collection."


1 November 2016
One of the delightful bonuses of attending the Horror Expo Ireland in Dublin last weekend was being given a copy of this new book by Bernice Murphy - featuring a chapter by James Rose on the subject of - myself! It is nice to be in the same book as "Tom Waits": no doubt for the first and last time!
27 October 2016
The usual flurry of Ghostwatch activity pre-Halloween! The most important being that you can now watch it via the BBC Store - that goes for the documentary Ghostwatch Behind the Curtains too!
Check out these links as well:
BBC Store promoting Ghostwatch as one of their Frightmare titles for Halloween
Simon Bestwick's 10 TV Plays for Halloween
Den of Geek: "Ghostwatch: remembering a TV Classic"
Vulturehound: "Darkness and nothing more: Ghostwatch (Retrospective)"
AV Club: "Read this: The Night the BBC'S Halloween Stunt Went Horribly Wrong"
Mental Floss: "The BBC Halloween Hoax That Traumatised Viewers"
That's Not Current: "31 Days of Terror: A Look Back at Ghostwatch (1992)"
3 October 2016
Check out this blog about the writing of my latest collection
Check out the BOOK TRAILER on YouTube
The launch in Scarborough was a huge success. Details of pre-orders for both versions of the book, see here on the PS website
Also check out the interview with me about Gothic in the current issue of Rue Morgue magazine (above) which celebrates the 1816 events at Villa Diodati.
23 August 2016
Dates for your diary? Several upcoming events I am attending over the coming months...
26-28 AUGUST (MANCHESTER):
Starburst Film Festival: I'm a guest here on Friday 26th to present a screening of Ken Russell's Gothic. I will also be around on the Saturday.
7 SEPTEMBER (GREENWICH, LONDON):
Skeptics in the Pub illustrated talk on "Writing Paranormal Drama for TV and Film": Here, I will be showing clips from film and TV shows I have worked on, and discussing how my interest in the factual side of paranormal research has informed my fiction.
23-26 SEPTEMBER (SCARBOROUGH):
FantasyCon by the Sea: Amongst other things, this will see the launch of my next collection: The Parts We Play from PS Publishing - details coming soon. I'm very excited indeed about seeing this very special book in print - the design work by Pedro Marques has been truly wonderful. The launch will be at 5-7pm on the Friday evening. (I am also up for a BFS award on the Sunday for Midwinter of the Spirit.)
15 OCTOBER (BRISTOL):
I shall be a guest at the one-day Bristol Horror Con.
30 OCTOBER (DUBLIN):
I will be attending Horror Expo Ireland 2016 as a guest.
21 NOVEMBER (KEELE UNIVERSITY, STAFFS.)
An Evening of Ghost Stories presented at the highly atmospheric Keele Hall, with two other esteemed genre writers.
26 NOVEMBER (DERBY):
I will be a guest at Sledge-Lit - the exceptionally fun one day event for genre writers and genre fans alike - wintry cousin to the summer's Edge-Lit, at the wonderful Quad with a host of my pals in attendance.
21 July 2016
Alison Pierce's extensive article on the script development of The Awakening (2011) has just been published by Manchester University Press - click here to read it. Or check out details on the THE AWAKENING page on the menu. She's given a clear and fair assessment of the process the screenwriter went through.
Meanwhile just noticed that Mark Lawson gave Ghostwatch a timely mention in his article in The Guardian: "Phantoms in the four-poster: will The Living and the Dead outspook TV's scariest ghosts?"
15 July 2016
Check out these recent articles that mention Ghostwatch:
Someone alerted me to This article in New Scientist, 1995 entitled "Smart Kids Not Fooled By Fiction". Also, Ghostwatch comes in at Number One in The Telegraph's list of "The 10 Most Terrifying TV Shows of All Time" (5 July 2016).
Also really delighted with this review of In The Shadow of Frankenstein in Diabolique magazine; "'Celebrity Frankenstein' by Volk is a wild and witty send-up of pop-culture, fame and reality TV. This searing satire leaves the reader in stitches."