GHOSTWATCH
Find a copy of Ghostwatch on DVD
Watch a Ghostwatch fan trailer
Guillermo Del Toro says "I love Ghostwatch. So scary!"

Check out the YouTube mini-featue (20 minutes) on the production and aftermath of Ghostwatch
Check out the "I WAS THERE" feature (a 30-minute interview with writer, director and producer of Ghostwatch, by Adrian Chiles on Radio 5 Live - October 31, 2017
YouTube Ghostwatch - Movie Review (2019)
In this notorious "live" coverage, the most up-to-date television technology seeks to show proof of the supernatural in the first transmission from an alleged haunted house on Halloween night, 1992.
Ghosts no longer inhabit stately homes or rattle chains. They live in ordinary council houses like that of Mrs Pamela Early and her two children. For months the family has suffered strange noises, awful smells and bent cutlery, but is hers really the most haunted house in Britain as the tabloids claim?
For the first time, BBC TV turns its cameras on the subject of the paranormal, and sends its intrepid reporters to investigate ghoulies, ghosties and things that go bump in the night...
Are they real, or just make-believe?

Watch the BBC "Additional Reassurance" announcement that appeared after transmission of Ghostwatch
Buy a DVD copy of the Ghostwatch: Behind the Curtains exclusive feature-length documentary
Check out the teaser trailer for the documentary Ghostwatch: Behind the Curtains on YouTube

"By far the most effective TV show about the paranormal was (Ghostwatch) broadcast 23 years ago yesterday" Sunday Telegraph, 1 Nov, 2015
"Extraordinary... a thrilling ghost story MR James would be proud of" "A supernatural TV landmark" SFX
"A work as ingenious as it is notorious" The Zone
"Ghostwatch has rightly become one of the defining moments of British horror" James Rose (Lost Souls of Horror and the Gothic, 2016)
"I loved it! One of the better examples ever of how to properly do a mockumentary" Oren Peli, director of Paranormal Activity
"For sheer fright levels this has to be the one" Simon Clark
"The only truly hair-raising piece of television this decade" - David Protheroe (Chapter Arts Centre)
"A legend in the history of spooky television" Cornerhouse, Manchester
"One of the scariest TV shows I've seen" Hunter Peters, Suite 101

"One of the most complained-about BBC programmes ever" Joe McNally, Fortean Times
"One of the great 'Do you remember' moments of British television" Creature Corner
"They should all get a BAFTA for it" Letter to Radio Times (21-27 Nov 1992)
"The BBC's legendary Halloween special" - BFI
"A hugely prescient and perceptive moment in television history" - David Sutton, Fortean Times
"This BBC drama is legendary, and rightly so... years ahead of its time" Ian Berriman (DVD review, SFX magazine)
"…about as subversive as TV can get" Jerry Glover in Headpress 22
"A brilliant and complex bit of television and outstanding work of horror. It used all the devices of television to frighten, and frighten to make a point. And that point is as relevant, perhaps even more so today as it was in 1992" Samhain magazine

"A rare instance of inspired, creative and challenging TV production... I'll never forget Ghostwatch" ShortList.com
"It's not a huge stretch to say we are living in a post-Ghostwatch world, where the blurring of the lines between fact and fiction has accelerated. Only (...) now the people putting on the frighteners are our political lords and masters, who use scare tactics to justify corrupt wars and (...) curtailment of civil liberties..." Peter Tennant's blog, Black Static online
"Ghostwatch, in its own little way, was as much of an epochal TV event as the Kennedy Assassination" thecustardtv.com
"Ghostwatch is a fabulous piece of work - it is played so dangerously - a genius satire of the media, but there is mischief too and we are skillfully drawn into a world of uncertainty, the 'play' destabilising the very medium we are watching it in" Mytho Geography

"Genius" Mark Gattiss
"Superb" Scott Mathewson, The Stage
"One of the highlights of modern television" Stephen Susco (screenwriter, The Grudge)
"Charlie watched the 1992 spooktacular Ghostwatch at four in the morning, and, having initially laughed at Sarah Greene's performance, soon found himself getting genuinely frightened" Charlie Brooker (Dead Set, Black Mirror) in The Guardian
"A complacent British public shaken to its core by Stephen Volk's TV play" Phil Alderman, Noise to Signal
"The single most terrifying thing I have ever seen in my life... A bloody brilliant piece of television - so controversial it was never shown again; so scary that it's seared on the mind of most people who saw it; and so ahead of its time that it inspired both Derren Brown and the makers of The Blair Witch Project." Thomas Bagnall, Narc Magazine
"Nightmare fuel of high calibre" You Tube

"The BBC gives over a whole evening to an investigation into the supernatural... Four respected presenters and a camera crew attempt to discover the truth behind The most haunted house in Britain, expecting a light-hearted scare or two and probably the uncovering of a hoax. They think they are in control of the situation. They think they are safe. The viewers settle down and decide to watch 'for a laugh'. Ninety minutes later the BBC, and the country, was changed, and the consequences are still felt today." Nubient
"Even the mere mention of Ghostwatch can reduce its viewers to gibbering messes" Digital Spy
"Genuinely terrifying TV, preying on people's primal fears and disguising it as a 'live, as it happens' experience" Read Horror
"Superb" "Amazingly creepy and brilliant" Den of Geek
"Mockumentary genius" Top10Horror
"Ghostwatch hideously scarred the psyche of a generation in the very best way" BleedingCool.com
"Ghostwatch showed clearly where the real ghosts of our society had gone to live... Ghostwatch was, of course, also about television... The extraordinary reaction rather proved the central aim of the drama... It demonstrated the truth about modern television... A brilliant piece of TV drama." Adam Curtis
"Unexpectedly terrifying telly... a piece of Halloween gold" Andrew Graham Dixon, The Culture Show (2012)
"Still a formidable and entertaining piece of television" Fear magazine (2012)
"Ghostwatch set the standard for thousands of other future horror movies and TV shows, influencing a generation of scriptwriters, horror writers and god knows who else" Smoke & Mirrors Magazine
"Perhaps the most notably feature of Ghostwatch is its willingness to use television against itself... using the BBC to critique the BBC. Ghostwatch is thus one of the best and purest examples of TV horror." "With its term of semi-suppression ending... it may finally be allowed to take its place among the most significant works of twentieth century horror in any medium" Murray Leeder, Carleton University (Horror Studies, Vol 4 No 2)
"Brilliant piece of TV history" Reece Shearsmith (League of Gentlemen, Inside No9)
"A brilliant way of telling a ghost story - groundbreaking" Steve Pemberton (League of Gentlemen, Inside No9)
"Amazingly creepy and brilliant" Den of Geek ("50 Genuinely Creepy Horror Movies")
"Peerless, terrifying, unsurpassed" FrightFest, 2018
"Confirmed (Stephen Volk) as a luminary in his beloved horror genre" John Gilbert, Phantasmagoria, 2018
"Ghostwatch is one of the greatest horror movies of all time" Simon Bassett, screenwriter, The Guest, You're Next, Blair Witch
Directed by Lesley Manning
Producer: Ruth Baumgarten
Executive Producer: Richard Broke
(1992, BBC1 Screen One Special, TX: October 31, 1992)
Michael Parkinson...................Himself
Sarah Greene........................Herself
Mike Smith............................Himself
Craig Charles........................Himself
Dr Lin Pascoe........................Gillian Bevan
Mrs Pamela Early....................Brid Brennan
Suzanne Early.......................Michelle Wesson
Kim Early..............................Cherise Wesson
Cameraman..........................Chris Miller
Sound Recordist....................Mike Aiton
Alan Demescu.......................Mark Lewis
Dr Emilio Sylvestri.................Colin Stinton
Arthur Lacey.........................Derek Smee

As yet, Ghostwatch has only ever been repeated on television outside of the UK, on stations such as Canadian digital channel SCREAM (for Halloween 2004) and the Belgian channel Canvas in 2008. In 2002, the British Film Insitute released a "10th Anniversary" edition on VHS and DVD.
Read the Wikipedia entry on "Ghostwatch" here
Watch the original viewers' responses on the BBC "Points of View" programme with Anne Robinson
Extract of Stephen Volk on "100 Greatest Scary Moments" ("Ghostwatch")
"Ghostwatch" entry on Encyclopedia of Fantastic Film and Television website
Join the fan site: "Ghostwatch: Behind the Curtains" YouTube channel (includes "Biteback" extract, clips, and many viewer comments
Become a Follower of "Ghostwatch: BtC" at the GW BtC Blogspot

Go to the "Ghostwatch" entry on the BBC Cult website
Watch the shameless spoof of Ghostwatch on NOEL'S HOUSE PARTY (BBC1: Season 7 ep 5 TX: 15.11.1997)
In the 31 Jan-6 Feb 2004 edition of Radio Times, "Ghostwatch" made an appearance as 3rd most spooky TV show ever, beaten only by "The X-Files" and "Stephen King's It"
Ghostwatch was also cited by the BMJ as being the first television programme to be responsible for post-traumatic stress disorder in children (4 Feb 1994).
New Scientist article entitled "Smart Kids Not Fooled By Fiction" - researcher specifically mentions Ghostwatch (New Scientist, 1995)
There is a section devoted to Ghostwatch in the book "Panic Attacks: Media Manipulation and Mass Delusion" by Robert E Batholomew & Hilary Evans (Sutton Publishing). The programme features in the chapter "Media-Made Monsters: Four Tall Tales and Why People Believed Them".
Ghostwatch also features as a case study in the book "Media Studies: Texts, Production & Context" by Dr Paul Long and Tim Wall (Longman, 2009) in the chapter "Media Texts and Meaning" (p120-121): "Case Study: Snuff Movies and the Boundaries of the Real".
On 29 October 2009 Ghostwatch featured on "Reece Shearsmith's Haunted House" on BBC Radio 4. Mark Gattiss said Ghostwatch was "genius", while Vic Reeves had never heard of it (though he said he had heard of Michael Parkinson!). Hear the clip via YouTube
To read Peter Tennant's blog on Halloween and Ghostwatch, click here
What to watch this Halloween... "my favourite - possibly of all time - Ghostwatch"
Halloween Video Vault: Ghostwatch

Interesting new blog on web site MSSV; The Reality Artificers. Subtitled: "How the BBC (i.e. Ghostwatch), Orson Welles, ancient Egyptian scribes and alternate reality game designers all follow the same 3900 year old tradition."
Also, nice to spot on "The Gralien Report" web site essay competition winner Scott Lyall, an independent investigator from the UK, writing "For my money the best film to deal with a Fortean topic was the BBC's Ghostwatch..."
Ghostwatch featured in an article on hoaxes in the media in The Guardian dated 14 March 2010, entitled: Bad News: Broadcast Hoaxes.
Ghostwatch was also discussed on the comedy quiz show The Bubble, 18 March 2010 on BBC2, after a discussion of the hoax Russian invasion of Georgia. Host David Mitchell, ignorant of the original broadcast, said: "If I'd seen Sarah Greene and a ghost called Pipes I'd have shat myself!"
On April 1st, 2010, it was announced that "Pipes" from Ghostwatch would appear on a future episode of The Simpsons alongside an appearance by Ghostwatch writer Stephen Volk. (The news turned out to be a rather devious hoax.)

Pipes becomes rap artist shock horror!... Samples from the original GW broadcast are used in this rap single 16 Ghostwatch (feat. Pipes) created by Dick Limerick Academy on their album Merseycide.
An interesting new review of Ghostwatch can be found on TV Tropes. And another interesting take at The Medium Is Not Enough TV Blog.

image: Arfon Jones
In October 2010 Ghostwatch featured in FANGORIA horror magazine issue #297 (Halloween Special):
The programme was cited in The One Show (BBC1) on 24/09/2010 as part of Kim Newman's "60 Seconds of Huge Hoaxes", naturally including Orson Welles' War of the Worlds broadcast, the BBC spaghetti harvest, and Nanook of the North.
October 2010: New reviews appeared on British Horror Television, Beyond Fiction and "100 Top Horror Films". Ghostwatch also featured in SFX magazine's feature on "The Classic British TV Ghost Story":

In 2011, writer/broadcaster/satirist Charlie Brooker devoted a chunk of one of his programmes in the series How TV Ruined your Life to Ghostwatch and the furore it caused in 1992. "A cunning blurring of fact and fiction" he called it.
A write-up on Ghostwatch by Thomas Bagnall in Narc Magazine, prior to its screening as part of Alien Nation: A Season of Cult British TV at Northumbria University, programmed by lecturer in Film and TV James Leggott.
Also in 2011, The Fan Can website looked at Best and Worst TV Ghosts. And "Pulling Focus - Found Footage Films and Marketing" - an article by Sean Watson on the site The McGuffin calls Ghostwatch "complete nightmare fuel".
House of the Spirits: Shocking Supernatural drama returns - a blog in October 2011 by Richard Luck on Blokey.com.
Some highly perceptive observations re: Ghostwatch on "The Medium and The Message" blog by Adam Curtis, outstanding documentary film-maker of the likes of The Power of Nightmares: it's called The Ghosts in the Living Room. Well worth watching in full the clip from 1963 of the much-imitated (at the time) Fyfe Robertson on the BBC Tonight programme with a proto-Derek Acora (equally unconvincing schtick, even then), plus a suburban haunting in Swindon circa 1973, and several clips of the Enfield poltergeist featuring the late psychcical investigator Maurice Grosse. I particularly like Curtis's name check of The Innocents with regard to GW - and I've lifted a quote from this blog to join the others at the top of this page. Praise indeed. (December 22, 2011)
"A perfect pastiche..." to quote another piece on Ghostwatch in the context of "the persuasing power of the simulated live broadcast" which appears on Electric Sheep (January 2012) whilst another new, enthusiastic review appears on Fear Theatre.
Check out "The Experiment" on YouTube ... A multimedia "happening"-cum-hoax created by psychologist Dr Brendan Dare and Thrill Laboratory, directly inspired by Ghostwatch and its screening at the 2011 Mayhem Film Festival in Nottingham. Fascinating stuff.
A special, in-depth interview with Stephen Volk on the subject of Ghostwatch appeared in "Scope" magazine (March 2012), conducted by University of Nottingham's Dr Elizabeth Evans. It focuses on the "hoax" the audience feld played upon them, and the "trust" they felt implicit in the BBC brand.
On April 1st 2012, a New Range of Exclusive Ghostwatch Merchandise was announced on the Ghostwatch BtC web site ...including this astonishingly realistic, fully articulated figure of "Pipes":
The songwriter Ian Evans has composed a song inspired by Ghostwatch, too, and featuring "Pipes" in the lyrics. Listen to it (or indeed, buy it) - here.
"The Spooky Movie That Caused Post Traumatic Stress Disorder" says this now article (23 April 2012) on 109, with a link to the full, original article: "How Ghostwatch Haunted Psychiatry" on the Mindhacks web site by Tom Stafford and Matt Webb. Interesting stuff about GW changed the definition of a medical condition.
Also: A fascinating memoir of seeing Ghostwatch on that first BBC1 transmission here on the Kindertrauma web site - entitled: "Traumaconfessions: Reader Alex on Pipes from Ghostwatch"
A new review on Top10Horror calls Ghostwatch "mockumentary genius". Also another write-up on the Baryonyx blog.
Ghostwatch now has a place on BAFTA's Wall of Fame.
Lesley Manning, SV and Richard Broke at BAFTA, after a private screening of the new documentary directed by Richard Lawden for LawMan Pductions. Ghostwatch: Behind the Curtains is a fascinating behind-the-scenes "making of" documentary with exclusive interviews with all the key cast and crew including Michael Parkinson, Sarah Greene, Mike Smith, Craig Charles, the director (LM), writer (SV), producer Ruth Baumgarten and exec producer (RB), as well as critics and broadcasters such as Andy (Ghost Stories) Nyman and Sight & Sound's Kim Newman - a fascinating insight into the programme and its aftermath. ...And a "must-have" for all Ghostwatch fans.
Upcoming feature and interview in Mostly Haunted Magazine (Halloween Special) - above.
Interesting blog on Ghostwatch on "Views from the Edge"
27 Oct: Check out this new write up on HeyYouGuys talking about the anniversary and forthcoming documentary. "Twenty years ago Ghostwatch affected me like no other programme before or since."
Also check out the link on BBC i-player to 12 Again: Spooky Special in which children's presenters recall Ghostwatch. the "Ghostwatch" section begind at about 22.10 into the programme - and is very revealing (and funny!) - though how they showed clips from a 12-cert programme on a CBBC show beats me!
31 October: Historic moment when Ghostwatch reappears on BBCTV, twenty years after first TX, playing out The Culture Show on Halloween night. "Halloween gold," according to Andrew Graham Dixon.
Blog on Ghostwatch on Digital Spy
Ghostwatch "still has the capacity to scare", according to Mr K's Geek Cornucopia
20th Anniversary for Ghostwatch parody spook show that sparked a new TV genre says Tom Steward, Lecturer in Television Studies at the University of Warwick. Ghostwatch appears on chud.com as "movie of the day" and is reviewed on Horror In Pure Form, where it is called "a horror classic" and rated 5/5
Psychologist Dr Ciaran O'Keefe gives an insightful profile of Ghostwatch and its impact in Looking Back: The Ghost in the Living Room in The Psychologist magazine (Vol 25 Part 11: Nov 2012)
Feature article including an exclusive interview with SV and update feature on the GW:BTC documentary in SFX magazine's A-Z of Sci-Fi TV Special (Nov 2012)
Not forgetting "50 Genuinely Creepy Movies" on Den of Geek - which includes Ghostwatch (June 2012)
Take a look at the "ON/OFF screen" website where there's a new article called Flashback: Television Horror and BBC1's Ghostwatch (1992) by Rebecca Williams, media studies academic at the University of Glamorgan. (June 2013)
A Mysterious Universe blog on the subject of Ghostwatch, War of the Worlds, and Unreality Broadcasting, written by Michael Rose. (July 2013)
A Ghostwatch review by Marcissus (July 2013)
Murray Leeder (Carleton University) has written an excellent, comprehensive and informative piece called Ghostwatch and the haunting of media in Horror Studies Volume 4 Number 2. You can purchase a PDF of the journal here. (Copyright Intellect Ltd.)
Interest view from "across the pond" in the website: British Horror Cult Classic: Ghostwatch - well worth a read.
As Hallowe'en approaches, nice to see this appraisal of Ghostwatch and The Stone Tape (now released as a Haunted Double Feature) in The Guardian, Thursday 24 October.
A nice remembrance of Ghostwatch from comedian Josh Widdicombe in The Guardian, 30 November: "I think it's one of the most astonishing televisual feats there's ever been". I'll have that, thank you!
Friday 6 December: very special "REUNION" SCREENING of Ghostwatch at the BFI South Bank, followed by a Q&A with Sir Michael Parkinson, producer Ruth Baumgarten, exec producer Richard Broke, director Lesley Manning, myself, and actors Craig Charles and Gillian Bevan. "Ghostwatch can sit proudly alongside such classics as Nigel Kneale's The Stone Tape." So says Simon McCallum on the BFI web site in his article "Why I love... Ghostwatch"

Watch the edited post-screening panel discussion at the BFI here
Both Ghostwatch and Ghostwatch: Behind the Curtains are now available FREE for everyone to watch in BFI Mediatheques as part of the new Gothic collection Haunted. The documentary has been acquired for the BFI archive as well. Lots of other bits and pieces in the archive include the original Nationwide piece on "the Enfield poltergeist" and Maurice Grosse's video diary where he revisits the house. (There are eight Mediatheques around the UK with another opening in Manchester in Spring 2014, so not just for London folk!) (December 2013)
Ghostwatch reviewed on Letterbox'd
Competition announced by our fans at The Cult Den - celebrating Rich Lawden's Ghostwatch: Behind the Curtains in "Documentary Month" (Jan 2014)
Great to see Ghostwatch get a hefty mention in this list of Unseen and Under-appreciated Horror - yes it is still in the zeitgeist and still chilling people to the bone! (June 2014)
Rich Lawden has made a spiffing short film about his experience at ComicCon talking to Ghostwatch fans - you can see it on YouTube, called Ghostwatch: Behind the Table - containing a touching mention of two stalwarts we have lost this year, Richard Broke and Mike Smith (August 2014)



"Pipes" has been voted No.2 in SFX magazine's poll of "Top 40 Ghosts" in its special Ghostbusters edition, out this month to coincide with the 30th anniversary of the classic film. They say Ghostwatch, the BBC's 1992 "fake documentary has achieved almost legendary status in the 22 years since its first (and only UK terrestrial) broadcast". It began "a cheerfully lighthearted bit of fluff" they continue, but "by the end of the show's 90 minutes viewers were left bewildered and some terrified by the apparently real ghostly attacks that had taken place". Of me, its writer, SFX says, "his genius was in giving the haunting an ambiguous personality". All in all "A brilliant Halloween horror story by ghost writer extraordinaire Stephen Volk". (September 2014)

Was Ghostwatch the scariest TV programme ever made? In the run-up to Halloween, the Daily Telegraph Online considered the evidence in a pertinent article by Ben Lawrence, while our friends at Den of Geek gave us "13 Scary TV episodes That Truly Terrified Us" - with Ghostwatch providing a suitable freak-out experience for the reporter. The programme was also given a special screening at the Festival of Fantastic Films in Manchester on Halloween night itself. (October 2014)
Ghostwatch has a whole chapter devoted to it in the new book Found Footage Horror Films: Fear and the Appearance of Reality by Alexandra Heller-Nicholas (MacFarland & Co, 2014):
Nice also to see that Ghostwatch features in The 10 Most Notorious Paranormal Hoaxes in History at 109.com. (December 2014)
A wonderful in-depth article on Ghostwatch by Alexandra Heller-Nicholas (*SEE ABOVE*) has appeared in the current edition of Supernatural Tales - Special Issue: Television and the Supernatural (Volume 2, Issue 1: Winter 2015). The piece is called "Ghostwatch: Supernatural and Technological Presence in Early 1990s Britain".
Grace Dent on The Enfield Poltergeist in The Independent:
"On reflection, Sky Living should probably have saved The Enfield Haunting for three consecutive nights at the end of October. This *based on true events* poltergeist tale would have been perfect for Halloween spooking, ever a few long dark nights, when we could send ourselves half-daft with netherworld terror. The BBC got it so right with Ghostwatch on Halloween in 1992..." (May 8, 2015)
Read Grace Dent's complete review here

A retrospective assessment of Ghostwatch appears here, on Ginger Nuts of Horror - The Retro Zone (June 22, 2015)
Ghostwatch gets a mention here in 7 Found Footage Movies that Predate The Blair Witch Project over on Dread Central, which calls it "a brilliant bit of faux-realism" (July 2015)
5 Fake Broadcasts That Terrified More People Than You Expect (Movie Pilot, July 2015)
A fascinating first-hand reminiscence of the impact of Ghostwatch on horror writer Ray Cluley in his blog Here Be Monsters: A Personal history of Fear (August 2015)
Read Ghostwatch - A Review on O E Higgins's web site (September 6, 2015)
31 Days of Scares #16 - Ghostwatch: Who is Mr Pipes? on horror-movies.ca is a surprising but welcome siting of GW on a horror film website. (October 17, 2015)
Horrorgami: the dark side of Paper Cut-Outs is an astonishing article about a guy, Marc Hagan-Guirey, who recreates horror film scenes in origami! Great to see a shout-out reference to him being scared to death by Ghostwatch. (The Guardian, 28 October 2015)
And this is the result from his book!:
And this eyebrow raising appearing of Ghostwatch in the Oklahoma Daily, no less: Infamous BBC Special Still Holds Up Today (October 28, 2015)
Check out Top 50 terrifying TV Characters according to Den of Geek. "Mr Pipes" comes in at Number 7; and Toby Venables' name-check for GW in his TLE "Top 5 Films for Halloween" (October 30, 2015)
Excellent shout out for Ghostwatch in Neil Armstrong's article on My Psychic Life (Channel 4): he also mentions my Afterlife and Midwinter of the Spirit. (Sunday Telegraph, 1 Nov 2015)
Ghostwatch comes in at number 7 in Hammer Films' list of The Scariest Tv Episode Ever! by David Girvan (Jan 16, 2016)
Article on John Gullidge, editor of the lamented horror magazine Samhain, and his interest in Ghostwatch, on Ghostwatch Behind the Curtains (May 2016)
Piece by Tom Holland, writer-director of Child's Play, Fright Night, and Psycho 2 on "Five Ghost Movies That Deserve Your Attention" - including Ghostwatch, which he says is "a fantastic influence on many ghost films of recent years." He also says "Pipes is one of my personal favourite when it comes to cinematic ghosts." (June 2016)
Check out Before Conjuring 2 There Was A Terrifying TV Special About the Enfield Poltergeist on blumhouse.com (June 2016) and Phantoms in the four-poster: will The Living and The Dead outspook TV's scariest ghosts? - Mark Lawson chimes in about the impact of Ghostwatch in the Guardian (28 June 2016)
Ghostwatch is given No.1 status in this list of "The 10 Most Terrifying TV Shows of All Time" by Michael Hogan, The Telegraph Culture (5 July, 2016)


The usual flurry of Ghostwatch activity pre-Halloween! The most important being that you can now watch it via the BBC Store - that goes for the documentary Ghostwatch Behind the Curtains too! Check out these links as well:
BBC Store promoting Ghostwatch as one of their Frightmare titles for Halloween
Simon Bestwick's 10 TV Plays for Halloween
Den of Geek: "Ghostwatch: remembering a TV Classic"
Vulturehound: "Darkness and nothing more: Ghostwatch (Retrospective)"
AV Club: "Read this: The Night the BBC'S Halloween Stunt Went Horribly Wrong"
Mental Floss: "The BBC Halloween Hoax That Traumatised Viewers"
That's Not Current: "31 Days of Terror: A Look Back at Ghostwatch (1992)"
Check out Cynical Celluloid's Halloween Special on Ghostwatch (14 minutes analysis): "PDSD on BBC" says the blogger; "It stands as a classy piece of writing - it just worked" and that Ghostwatch "remains pretty damned creepy"
Here is another interesting, and personal, blog on Tom's Watch
Listen to Sawbones: Ghostwatch - a medical-related blog, in which Dr Sydnee and Justin discuss "a movie that might have gone too far"
Check out a terrific BBC Ghostwatch Trivia Quiz here on Higgypop (January, 2017)
Ghostwatch is now available on streaming in USA for the first time... "Shudder (http://ww.shudder.com), the premium thriller, horror and supernatural streaming service backed by AMC Networks, is releasing the BBC's infamous faux paranormal documentary Ghostwatch for the first time ever in the United States." Check out the full article on Dread Central (April 17, 2017)
Faux documentary Ghostwatch comes to Shudder (Daily Dead, April 17 2017)
The BBC Halloween Hoax That Traumatized Viewers by Jake Rossen (Mental Floss, April 17, 2017)
Banned BBC Horror Comes Back to Life on Shudder (National Post)
US Viewers Can Now See the Legendary Pants-Wettingly Scary British Mockumentary Ghostwatch (Cheryl Eddy, io9)
'Menacing' BBC Horror Movie that was blamed for one viewer's suicide is set to be screened again for the first time in 25 years (The Sun, April 19, 2017) "A terrifying TV special that drew tens of thousands of complaints when it aired (...) is about to see the light of day once more." - "Ghostwatch's underground cult status has grown since it was banned and some fans hold special Ghostwatch screenings each Halloween."
'Ghostwatch': Banned Mockumentary Deemed Too Disturbing for BBC, Finally Airing in U.S. (Yahoo TV) "The BBC received 30,000 calls about the program in a single hour (and) responded by officially banning the program from airing again, and it never has... until now. - Are you brave enough for Ghostwatch?"

Ghostwatch: Infamous BBC Horror Film Available Again After 25 Years (Geek Exchange) "No other fictional program had so thoroughly convinced a general populace since Orson Welles' famed radio broadcast of War of the Worlds."
"Ghostwatch": The Grandaddy Of Ghost-Hunting Fopund Footage Films (Less Lee Moore, Everything Is Scary, April 21, 2017) "After Blair Witch's awful critical reception in 2016, many horror fans have wondered if the found footage subgenre can ever recover. While we wait for that question to be answered, we can marvel at the forward-thinking Ghostwatch, which gets everything just right."
Why "Ghostwatch", the BBC's Controversial Mockumentary, is a Genuine Horror Classic by Brendan Morrow, (Bloody Disgusting) "This masterly and revolutionary piece of horror storytelling that truly stands the test of time"
Cult Corner: Shudder is now Streaming "Ghostwatch," The Terrifying British Horror Mockumentary Blamed for a Viewer's Suicide (Cult Corner, May 3 2017) "May well be the one film in the history of horror to produce the most chilling real world effects"
Ghostwatch (Rick's Cutting Room) (May 4 2017) "Originality: 10"
Infamous BBC Halloween stunt Ghostwatch manifests on Shudder (A.V. Club, April18, 2017) "Next to Orson Welles' 1938 radio play of War of the Worlds, the BBC's presentation of Ghostwatch is probably one of the best-known media-induced panics in broadcasting history (and possibly more effective)"
Ghostwatch Continues to Manifest Fear Decades Later (Stacy Cox, Decay Mag, April 20 2017) "This simple yet complex concept scared thousands of viewers into widespread panic. This is film-making at its finest"
Ghostwatch: Infamous BBC Horror Film Available Again after 25 Year by Mitchell Corner on Geek Exchange (April 26, 2017)
Ghostwatch: A Classic Scare Film reviwed by Decay Mag (April 20, 2017)
See this round up on Indiewire of Best British Horror Films of All Time - Ghostwatch comes above Hitchcock's Frenzy and Hammer's Dracula. By Michael Nordine and William Earl (May 15, 2017)
William Hughes on A.V. Club was asked "Which Film or TV do you wish you'd seen when it first came out?" and chose Ghostwatch. (Jun 2, 2017)
Flickside.com rates Ghostwatch as no.2 in its list of the best found footage/mockumentary films of all time (Aug 22, 2017)
Nice to see GW get a mention in Scary TV's What is the Scariest TV Programme of All Time?
Pilot Light Festivals' two Special 25th Anniversary Screenings + Q&A in Manchester (Oct 30th) and London (Oct 31st - Halloween night).
Here's my interview with Claire Cavanagh of BBC Radio Bristol Starts 14.40 in, lasts about 35 minutes. (13 October, 2017)
Ghostwatch's 25th anniversary looms. This brilliant article by Kate Mossman in The New Statesman including extensive new interviews and analysis. (Oct 19, 2017)
This one by Tom Fordy in the Daily Telegraph online.(Oct 27, 2017) And this by Louise Rhind-Tutt on inews - "The BBC mockumentary still haunting us after 25 years". (Oct 26, 2017).
Here it is discussed on The Robots Pajamas. (Oct 20, 2017)
This terrific piece is on boingboing "Ghostwatch: the greatest Halloween hoax of all time" (24 Oct). And an anonymous blog here.
Also, a rather strange write-up on Adventures in Poor Taste: I'm not quite sure if the writer realised it was a drama! (Oct 2017)
Pilot Light TV Festival hosted two screenings/Q&As with myself, Lesley Manning and (in London) Gillian Bevan - to fantastic audiences in both Manchester and London. We had a ball. I can think of no better way to have celebrated Ghostwatch, 25 years on from its one and only BBC screening in 1992.
On Tuesday morning 31 October Lesley and I talked to Adrian Chiles down the line on BBC Radio 5 Live - the interview (in which we are joined by producer Ruth Baumgarten) begins at 2.28.00 and last about half an hour.
There's a further mention of Ghostwatch on the BBC's Afternoon Edition also on Radio 5 Live but the day before. A mention of it at 2.08.00, then a longer piece at 2.50.35. Nice to hear them say it's "still as good as it was then"!
For more audio, those redoubtable Final Girls asked me some extensive questions on Ghostwatch during their special horrorcast on the subject (31 Oct 2017)
And there are some excellent recollections during this one hour special on Ghostwatch on Fornications of the Mind on The Old Oil House (The Public House of Pop Culture): "It attacks you on sa fundamentally human level" "There is nothing than coul dever scare me as much as Ghostwatch" "A brilliant piece of horror" "I'm getting shivers just talking about this" "It's indisious... like an infection taking hold" (31 Oct 2017)
Meanwhile, here are some links to some of articles that have sprung up (see further articles in the post immediately below):
Rebecca Woods writing for the BBC news website penned Ghostwatch: The BBC Spoof That Duped A Nation. Remarkably, she managed to get comments from the family of Martin Denham. This article is an astonishing turnaround for the BBC who clamped down on Ghostwatch after it saired, effectively burying it for ten years. And clearly this piece prompted our appearance on Radio 5 Live, above.
The NME's Dan Stubbs ran an interview with me and Lesley under the title Cult TV Classic Ghostwatch at 25: "our show made a man shit his pants" (30 Oct 2017)
Roisin O'Connor ran a piece in The Independent Ghostwatch: BBC Halloween spoof that "gave children PTSD" turns 25 (30 Oct 2017), while there was a further piece in The Independent by David Barnett called Ghostwatch: The 1992 paranormal investigation that just had to be true, because it was on the BBC (31 Oct 2017)
The Irish News ran with Cult Movie: Ghostwatch scared the hell out of us before TV spoofs were commonplace by Ralph McLean (27 Oct 2017)
On a lighter note the esteemed Tony Earnshaw interview me for the Huddersfield Examiner (30 Oct 2017). There was an article by Julia Banim on Unilad entitled BBC Halloween Programme That "Gave Kids PTSD" is 25 Years Old (31 Oct 2017)
Also check out the article on www.heyuguys.com entitles "25 Years of Ghostwatch and Why You'll Never Experience Anything Like It Again". Jon Lyus says "It marked a turning point for the horror genre" and "Its cult status grown each year, as does its prestige" (31 Oct 2017)
Check out the "I WAS THERE" feature (a 30-minute interview with writer, director and producer of Ghostwatch, by Adrian Chiles on Radio 5 Live - October 31, 2017
Andrew Hickey writes about Ghostwatch: 25 Years On (Oct 2017)
Check out this interview I did on BBC Radio Scotland in which I discuss Ghostwatch, hoaxes, and Orson Welles's famous War of the Worlds radio broadcast with actor and Welles biographer Simon Callow. It begins about 01.46.30. (5 Nov 2017)

Spoof Doctor Who covers (2017)
Ghostwatch makes it into The Occult Museum's list of 10 Best Haunted House Horror Movies Ever (Oct 2017)
Check out the The 8th Dimension Podcast on Ghostwatch (October 2017) and join the forum BBC's Ghostwatch Was The Scariest Thing...
Also Scarier Than Requiem - The Most Terrifying TV Shows of All Time in The Telegraph (Culture) - Ghostwatch in as Number One! (Feb 2, 2018)
Neat post-anniversary blog at On a Thousand Walls #11: Ghostwatch (1992) (17 Feb 2018)
Listen to the Evolution of Horror Podcast GHOSTS 11: Ghostwatch - Ghostwatch was voted in at #3 in the Top Ghost Stories of All Time hall of fame. Also take a look at the breakdown of Ghostwatch on All The Tropes.
Check out horror director Aislinn Clarke selecting Ghostwatch as her favourite Halloween viewing on Daily Grindhouse (28 Oct 2018)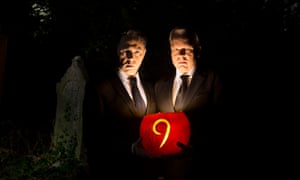 The glorious pair Reece Shearsmith and Steve Pemberton did Ghostwatch proud with a fond homage (or remake!) in their Inside Number 9 "live" Halloween Special (28 Oct 2018). Reece said it was a "love letter" to our 1992 drama. It seems The Guardian got the references, too. Also see this review in The Times by Hugo Rifkind remarking on the link between Number 9's live special and Ghostwatch.
In which I talk about Ghostwatch to Chris Stachiw of Kultureshocked (31 Oct 2018)
Over on Stories from the Borderland (Scott Nicolay) an interesting article linking the writer of many of Alfred Hitchcock's Three Investigators books with a fiction strangely reminiscent of Ghostwatch. (31 Oct 2018)
Chapter in "TV Geek" ed Simon Brew (Octopus Books, 2018)
Ladykillers: An A-Z of Women's Horror Film-making by Alexandra Heller-Nicholas features both Ghostwatch and its (female) director, Lesley Manning. (Dec 5, 2018)
Yet another mention in Six Times the Audience were Fooled (Radio 4, BBC) "By the end, a frazzled audience was unsure if that nice Sarah Greene actually had just been captured by a ghost. It caused such controversy that it was not shown for 10 years after its initial broadcast, but it's now become something of a cult classic." (Jan 2019)
As seen on The Chase (2019)...
10 British Horror Movies You Need to Watch - including Ghostwatch, by Screenrant (June 9, 2019)
Harry Hill's Alien Fun Capsule (ITV) - with a segment on Ghostwatch to celebrate guest Sarah Greene. Much mirth is had by all. Good to see Ade Edmondson being a good sport! (TX: 13 July 2019)

"Ghostwatch: The Birth of Paranormal TV" by MJ Steel Collins on The Spooky Isles (19 June 2019)
"Ghostwatch: infamous BBC Horror Film Still Scares After 25 Years" by Mitchell Corner on Grizzly Bomb (3 October 2019)
Guillermo Del Toro says "I love Ghostwatch. So scary!" (16 October 2019 on Twitter)
The BBC's Most Controversial TV Show (YouTube) from Inside A Mind "...at this point the show seems to derail into madness..." (17 October 2019)
Ghostwatch: The Day England Was Haunted a podcast by the Wehrli family on Weird World (14 June 2019)
10 Scariest Haunted House Movies Ranked - good to see Ghostwatch in at #1! Thank you, ScreenRant. (12 Oct 2019)
Check out this new Ghostwatch - Movie Review (YouTube) (22 Oct 2019)
Jersey Evening Post (26 Oct 2019)
Check out Anglotopia: One Anglophile's Take On Ghostwatch: The Specail That Terrified A Nation - complete with clips - and a few errors! "Seriously, it can be hard to explain how this little film is great, beyond explaining that Volk is amazingly good at creating suspense and verisimilitude." (28 Oct 2019)
Also these podcasts:
An interview with me at Following The Nerd. Plus this interview I did with Hayley is a Ghost at The Spooktater Podcasts about all things scary and paranormal. Especially Ghostwatch! (31 Oct 2019)
The Pipes "action figure" is now appearing in toy collections all over the UK:
Great to see "Pipes" also appearing in Dead Endia from the Cartoon Network:
GW also gets a nod in this graphic novel / comic:
And check out this 2019 fan updating of Rentaghost featuring Pipes!:
A recent blog by Ghostwatch fan Leslery Gabriel (presently doinga PhD) is called Ghostwatch: Proper Horror, the Radio Times, and the BBC Star System of the 1990s - She says: "For me the power of Ghostwatch has definitely not diminished over the years. Even hearing the word 'pipes' on TV or in everyday conversation in subsequent years has took me back to a series of uncomfortable images or sounds from the Ghostwatch show" (22 Oct 2019)
It's also fascinating to peek in at Ghostwatch on VHISTORY part of the Vhistory Project. "A horror classic... Forget the Blair Witch. Pipes is really scary."
Poltergeist Girls, Part 4: The Enfield Variations by Doris V. Sutherland includes references to Ghostwatch in its "fact and Fakery" section. An interesting comparison of GW's BBC drama fiction with the "facts" of the Enfield case. (31 Oct 2019)
After the Xmas Eve transmission on BBC Four of Mark Gatiss's adaptation of M.R. James's ghost story "Martin's Close" there was this interesting, if controversial, blog by Tychy about the connections between Ghostwatch and subsequent ghost stories on BBCTV - "The phenomenon of tremulous 'snowflake' students is conceivably just the psychological damage done from being exposed to Ghostwatch... Thereafter the BBC's decisions was firm. Sure, it could continue to broadcast ghost stories... but they couldn't be frightening, Because packed within the muscle memory of the BBC was now an aversion to horror that ran all the way back to its Ghostwatch scar tissue" (26 Dec 2019)
Check out this excellent rendering of characters from Ghostwatch in cartoon form (2020):
New podcast on Ghostwatch with The Journey of the Writer (Podcast 17), 45 minute interview. (Feb 15, 2020)
A fan trailer https://www.youtube.com/watch?v=S-qmGkIIkag&list=PLUmKzdkwT93wK3MeCoRF-vx-MakcZISqk here....
And more fan artwork - this time of Pipes - very creepy: (Feb 2020)
A new interview with SV about Ghostwatch here on Janine's Ghost Stories (March 5, 2020)
Check out this piece by Joseph Pine ("I was an easily spooked child" called Cultural Moments: Ghostwatch 1992 - Part 1 (April 23, 2020): Also the follow up piece "This probably is also why Pipes is so horrible as a spectre, he represents that very British trait of repression and otherness"- in Cultural Moments: Ghostwatch - The Aftermath by the same author (May 4, 2020)